From VR headsets to home automation gadgets, the world of adaptive tech is always evolving. QLI Occupational Therapist and Adaptive Technology expert, Erin Young discusses these developments.
An Interview with Adaptive Technology Expert, Erin Young
How would you describe adaptive/assistive tech?
Those are huge umbrella terms that describe the technology used to increase a person's independence performing everyday tasks. With WiFi and Bluetooth everywhere, and with assistive technology being such a hot-button topic, we're all looking for ways to use technology to be more efficient in life and at work. A lot of modern gadgets are fun for me and you, but they are a lifeline for the people we serve at QLI. Assistive tech used to be something you had to go through a medical supplier to attain, but now you can get it on Amazon.
What are some cool tools that can break down barriers for someone affected by injury?
Home automation technology has been a big focus of ours lately. A Wemo switch, a simple outlet plug, can take any regular appliance and make it voice-controlled or app-controlled. With voice commands, a person can adjust the television or change the temperature in their living space, and they can do all of that privately without the need for an aide assisting them. That's just the result of an item you can buy from Amazon for $40.
Automatic door openers are a big deal. Someone in a wheelchair who can control their phone can use an automatic door opener to independently exit a room or their home in the event of an emergency. Without something like that, we would recommend a person in that situation have 24-hour supervision for their own safety.
What are everyday things people use they may not realize have huge implications in boosting independence?
There are a lot of accessibility features that come built into phones and computers. The iPhone, for example, barely needs to be controlled with your hands. We can sync iPhones up with power wheelchairs, so whatever someone uses to move their wheelchair can also be used to operate their phone. That is a gamechanger, not just for someone's level of care, but for their quality of life and, in some cases, their ability to get back to work.
What does the future hold for this kind of technology? What are some of the wilder things on the horizon?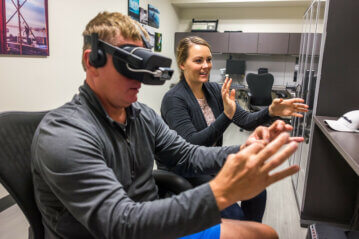 Currently, Virtual Reality (VR) is mostly used for gaming, but we're utilizing it as a therapy tool.
Our team is combining VR with other functional devices, like our bionic exoskeleton technology where someone can get functional support while being immersed in a virtual world. We can help someone find success performing a task virtually before graduating them to performing that same task functionally.
One of our clients wears VR goggles while riding a Functional Electrical Stimulation (FES) bike. I think he just thought cycling in VR would be fun initially, but he found it doubled his power output and distance traveled. When he saw himself going up a hill in the virtual world, he was pushing harder. Pairing Virtual Reality with rehab technology can lead to maximized outcomes, increasing that motivation.
Technology is always advancing, so our adaptive technology program will only grow to serve more individuals from a wider range of diagnoses. It's a source of hope for individuals and their families to get to QLI and see all the ways this tech makes everyday life possible.
Categories: Adaptive Sports, Adaptive Technology, Brain Health, Brain Injury, Chronic Pain, Neuroplasticity, QLI Magazine, Skill Acquisition, Spinal Cord Injury