Limb Loss Rehabilitation
Find your path forward after limb loss.
Navigating the physical and emotional challenges after limb loss can be daunting. QLI's limb loss program leverages our nationally recognized clinical model by integrating innovative telerehabilitation with intensive on-site rehabilitation. The comprehensive program is designed to streamline clinical decision making and maximize progress at each phase of recovery while simultaneously helping you to again access the most meaningful aspects of your life.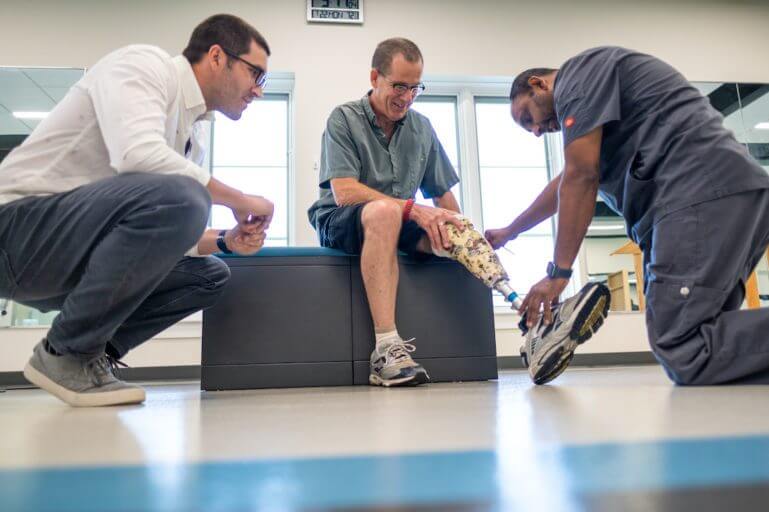 Tri-Dimensional Rehabilitation
1
Pre-Prosthetic Training
Frequent communication and collaboration between the client, physician, prosthetist and therapist is critical. This is integral for optimal fit and a smooth recovery. Video conferencing technology allows for remote team conferences and clinical consultation. Keys to this phase include wound and pain management, proper positioning and flexibility, building strength and endurance, maximizing independence without a prosthesis and emotional coping and adjustment.
2
Prosthetic Training
If a prosthesis is appropriate, QLI offers an individualized and comprehensive day rehabilitation program. The specialized treatment team works with trusted prosthetists to achieve optimal fit and function. Each program is uniquely customized considering individual goals and interests. Our interdisciplinary rehabilitation team goes well beyond the walls of the therapy gym to restore functional physical activity and promote short-term gain AND long-term success.
3
Back to Life
The final phase of programming focuses on moving rehabilitation beyond the clinical environment. The therapy team utilizes an easily accessible video platform to transition the skills and care acquired in the inpatient setting to the context of the real world. The benefits of this approach allow a continued and convenient access to meaningful and individualized training delivered by specialized therapists regardless of where you are in the world.
Contact Admissions
Patty Sanderson
Coordinator of Admissions