Limb Loss Rehabilitation
Find your path forward after limb loss.
Navigating the physical and emotional challenges after limb loss can be daunting. QLI's limb loss program leverages our nationally recognized clinical model by integrating intensive on-site rehabilitation with innovative telerehabilitation to carry through after your return home.
The program is designed to streamline clinical decision making and achieve optimal physical function at each phase of recovery while simultaneously helping you to again access the most meaningful aspects of your life.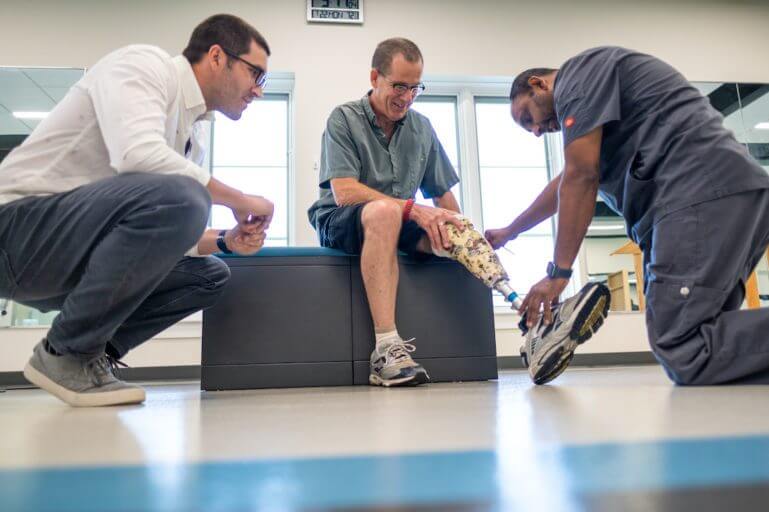 Tri-Dimensional Rehabilitation
1
Pre-Prosthetic Training
Frequent communication and collaboration between the client, physician, prosthetist and therapist is critical. This is integral for optimal fit and a smooth recovery. Video conferencing technology allows for remote team conferences and clinical consultation. Keys to this phase include wound and pain management, proper positioning and flexibility, building strength and endurance, maximizing independence without a prosthesis and emotional coping and adjustment.
2
Prosthetic Training
If a prosthesis is appropriate, QLI offers an individualized and comprehensive day rehabilitation program. The specialized treatment team works with trusted prosthetists to achieve optimal fit and function. Each program is uniquely customized considering individual goals and interests. Our interdisciplinary rehabilitation team goes well beyond the walls of the therapy gym to restore functional physical activity and promote short-term gain AND long-term success.
3
Back to Life
The final phase of programming focuses on moving rehabilitation beyond the clinical environment. The therapy team utilizes an easily accessible video platform to transition the skills and care acquired in the inpatient setting to the context of the real world. The benefits of this approach allow a continued and convenient access to meaningful and individualized training delivered by specialized therapists regardless of where you are in the world.
Get started.
The first step is learning where you have been, where you are and where you want to go. You may have questions, too. Let's start the conversation.
Our admissions team will obtain all necessary medical records and verify funding. Whenever possible, an admissions liaison will conduct an in-person visit to meet with you and your family and carefully your circumstances to determine program eligibility.
Frequently Asked Questions
Who is a good candidate for QLI's limb loss program?
Individuals recovering from all types of upper extremity or lower extremities are appropriate for QLI's Limb Loss program, including those recovering from multiple amputations.
At what point in my recovery would it make sense to access QLI's program?
Typically, there are three phases of the recovery process:
Pre-Prosthetic: If you are preparing for or have recently undergone limb amputation.
Prosthetic Training: If you are preparing to receive a prosthetic or have one and are seeking to improve function.
Community Reintegration or Outpatient Training: If you are seeking assistance as you transition back to your life or are seeking functional therapy at the outpatient level.
Depending on your needs, we offer virtual rehabilitation for the pre-prosthetic and outpatient aspects and intensive on-site programming to help you achieve optimal fit and function with your prosthetic.
What if I have an established relationship with a local prosthetist?
QLI's program does not replace the role of the prosthetist. Instead, we work in conjunction with them. Whenever possible, we work closely with your local provider(s) to streamline clinical decision making and prosthetic device selection.
Contact Admissions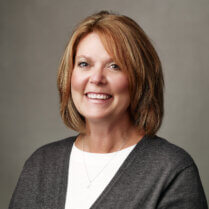 Patty Sanderson
Coordinator of Admissions