Spinal Cord Injury Rehabilitation
Find your path forward after spinal cord injury.
QLI's Spinal Cord Injury rehabilitation program is a specialized, post-acute rehabilitation center of excellence for individuals who have sustained a spinal cord injury. Emerging research suggests individuals with spinal cord injuries, especially those with incomplete injuries, can improve their physical and functional recovery by participating in a focused, intensive and individualized physical rehabilitation and training program. Our comprehensive program is designed to ensure our clients maximize their physical recovery while simultaneously mastering the skills and confidence to move bravely back into the lives they choose to lead.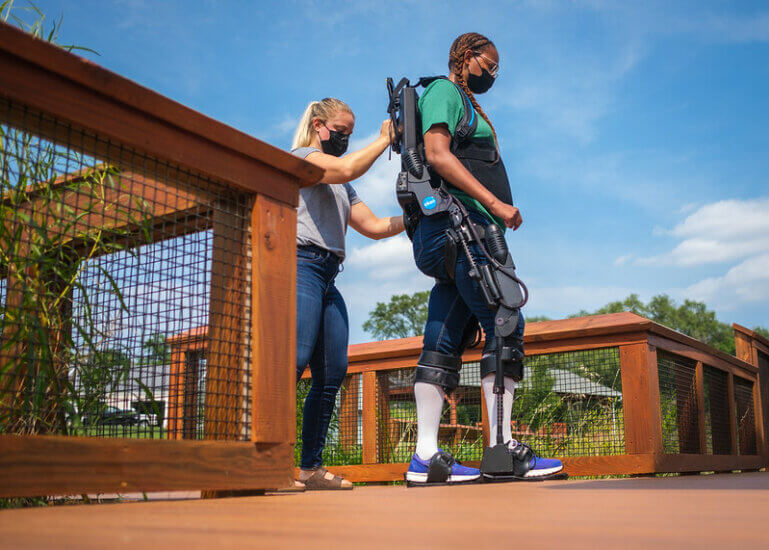 Tri-Dimensional Rehabilitation®
QLI's Tri-Dimensional Rehabilitation® program is focused on one clear goal: to help our clients rebuild their lives after a catastrophic injury. Founded on best practices, QLI has developed a revolutionary model that addresses not only the core medical and physical aspects of rehabilitation, but is also designed to address the real-world skills and individualized interests that bring purpose and passion to our lives.
1
Excellent Medical Care
The foundation for all rehabilitation programs at QLI is excellent medical care. From basic health services to complex medical care, the needs of our clients are met with patience and understanding in a safe, clean environment. An expert team including QLI's physical medicine and rehabilitation physician and team of dedicated 24-hour nursing staff continually monitor medication, nutrition, skin integrity, bowel and bladder care procedures and activity level as the rehabilitative process evolves.
2
Real-world rehab
As experts in applied education and real-world function, the team at QLI uses cutting-edge science and the latest in rehabilitation technology. It takes specialized techniques to build new neural pathways after injury. And as a result, our rehabilitation goes beyond simple therapy — it marries true-to-life, individualized training with intensive repetition, a process that maximizes clients' physical and cognitive independence.
3
Rebuilding Hope
Emotional adjustment after injury is often one of the most challenging aspects of recovery. Led by our Life Path Services team, experiences and therapy programs are uniquely tied to passions, values and identity. For some, it involves partnering with local businesses and community resources to offer a real-world, immersive return-to-work experience. For others, it means mastering a hand cycle after a spinal cord injury so they can continue riding bikes with their kids. Every client's goals are different but in all cases, Life Path Services encompasses everything we do to get from devastation to hope and on the meaningful path forward in their lives.
Get started.
The first step is learning where you have been, where you are and where you want to go. You may have questions, too. Let's start the conversation.
Our admissions team will obtain all necessary medical records and verify funding. Whenever possible, an admissions liaison will conduct an in-person visit to meet with you and your family, observe therapies and carefully your circumstances to determine program eligibility.
Contact Admissions
Patty Sanderson
Coordinator of Admissions