Webinars and E-Learning
Sharing our expertise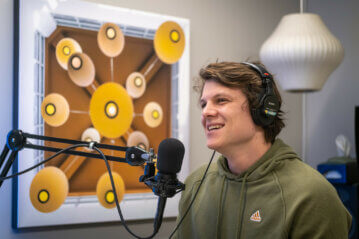 Coming Up
Kintinu'd Conversations Podcast
Keep On, Keepin' On With Jake Meyers
This month we will be broadcasting a recent podcast from our Kintinu Telerehab team. Kintinu'd Conversations podcast was launched in 2022 and is designed to engage a variety
of listeners on topics that matter to us– whether at work, in life, or in our relationships.
In this episode, Brad Dexter and Ana Hancock welcome Jake Meyers to the podcast. Jake is an Omaha native who started his baseball journey at Westside High School and the University of Nebraska. His career continued to take shape as he worked his way through the Houston Astros minor league system and eventually landed a spot on the major league roster.
In 2021, Jake experienced a season-ending shoulder injury during an important playoff series. He recently underwent surgery and joined the podcast to talk about the topic of resiliency, his journey of rehabilitation, and his mindset towards his personal and professional life. Listeners will also learn about Jake's rise to the big leagues, formative events that have shaped his approach, and influential mentors throughout his career.
Stay Connected
Complete the form below and you'll receive updates on the educational opportunities, events, and stories of inspiration.