Meet Josh Jackson. At 17, Josh was one of the top dirt track race car drivers in the country. No one could deny that he was a whirlwind of talent rocketing toward a legendary racing career. Based out of Albuquerque, New Mexico, Josh had already spent a lifetime on dirt tracks across the Southwest. Josh tallied countless trips to the winner's circle, hoisting countless trophies and otherwise demonstrating an effortless dominance over his challengers.
Then, tragedy. August 8th, 2015. Josh's life changed in an instant after a chaotic three-car crash at Las Cruces, New Mexico's Southern New Mexico Speedway.
"In the emergency room, [doctors] told me, 'We'll do everything we can, but this kid won't make it through the night,'" says Ginger Jackson, Josh's mother.
This is a story of progress, a story of learning, a story about a different kind of victory.
Every race is a race to win.
There's no such thing as second place, no participation trophy, no consolation award for seeing the checkered flag wave from behind the leader's tailpipe. This is the mentality of Josh Jackson.
It's a mentality that had pushed him to the brink before. Plenty of crashes served as historical checkpoints for Josh's laser-focused pursuit of victory. In those instances Josh had spun out, careened off the track, rolled end over end, even been set on fire. But he'd always come back to race again, to fight for dominance.
This crash was different.
Josh's skull became shattered. His left eye removed after suffering irreparable damage, doctors raced to treat the trauma inflicted on Josh's brain. However, their expectations were grim. Ginger received word that Josh was not likely to survive, and that, if he did, he would never regain major physical or cognitive function.
Miraculously, Josh lived.
After waking from a three-week coma, he was transferred to Craig Hospital in Denver, Colorado, one of the leading rehabilitation hospitals in the nation. His impairments were as numerous as they were devastating: His dominant hand and his right leg refused to cooperate during basic movements. Abstract information and expressive speech brought his mind to a halt. He found himself unable to plan or solve problems the same way he could before the accident.
The Craig Hospital clinical team worked diligently to improve his medical stability, beginning Josh's intense early rehabilitation process with an arsenal of highly qualified therapists and state-of-the-art equipment. Josh remained at Craig Hospital for four months, working daily on the painful and slow process of relearning life's most basic functions.
No longer in need of hospital-level care, Josh made the transition to Omaha, Nebraska, where, at QLI, he would be able to receive therapy that could approximate – and, indeed, prepare him for – everyday life.
QLI had one goal: retrain Josh's brain and body. Incorporating dynamic, true-to-life tasks, QLI's intensive rehabilitation program targeted his weaknesses. Key focus was also given to strengthening his arm, his leg, and engaging his cognitive ability.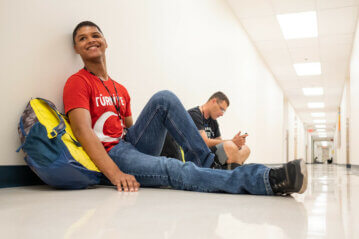 Josh learned how to prep his meals, manage his needs throughout the day, and wrestle control over his wild movements. Within months, he grew confident managing day-to-day life, far exceeding early expectations that he'd require 24-hour assistance for the rest of his life. In time, with the aid of QLI therapists, Josh participated in academic coursework, further challenging and improving his problem-solving abilities and language fluency.
But, for Josh, racing remained most important. No matter the circumstance, no matter the barrier, he would find a way back behind the wheel to fight for a checkered flag.
This passion became the core pillar of his rehabilitation. Partnering with Joe's Karting, a local go-karting racing company, QLI therapists provided a high-level challenge to his vision, his coordination, his endurance and his muscle strength.
"I can't imagine any other healthcare provider doing what QLI did for Josh," Ginger says. "It was so unorthodox, it worked. At that point, I think he knew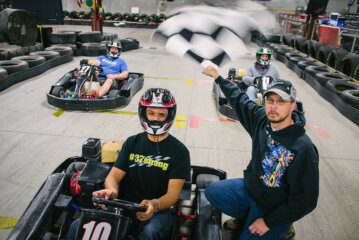 he was going to be okay."
The impact of Josh's rehabilitation hasn't wavered in the three years since his return home.
Now 21, Josh is a proud student pursuing a business degree at Central New Mexico Community College. He works for his family's company, driving across the state to retrieve law enforcement vehicles contracted for upgrades. And he remains a dominant force on the racetrack. He drives the #37 car with the intensity and competitive fire that characterized his career before his brain injury.
His life is defined by relentless effort. Triumphant and still evolving, Josh is a walking, talking, and race-winning testament to the lifelong impact of specialized rehabilitation. And he's just getting the tires warmed up.
Categories: Adaptive Sports, Brain Injury, Neuroplasticity, QLI Magazine