Exercise assistant Tara Adams leads the way to the QLI East Campus Adaptive Sports Workshop. Justin Rutherford maneuvers behind her in a manual wheelchair, one muscular tattooed arm propped on a tray over his lap and the other gripping the hand rest. He's an image of constant motion, digging one propulsive heel after the next into the carpet.
"What's it going to be today," Adams asks Rutherford, "skeet shooting or boxing?"
He navigates to a room packed with recumbent training bikes, a rowing machine, and a wall of windows looking out over a swimming pool. His answer arrives without hesitation.
"Boxing. I'm boxing."
The response is not surprising. A U.S. Marine veteran and former police chief, Rutherford is no stranger to being in fighting shape. Even after a 2012 brain injury, Justin keeps a thrice-weekly training schedule with Mick Doyle, a legendary Omaha-based mixed martial arts coach.
This is who Rutherford is. He loves the training and thrives on maintaining combat-ready discipline.
But today, Rutherford isn't sparring or throwing body blows at a heavy bag. Instead, Adams directs him in front of a widescreen television spanning most of the wall. Before him waits the Oculus Rift, a wearable headset that immerses the user within a world of virtual reality.
Inside this alternate world, Rutherford's movements are represented with one-to-one accuracy. A turn of the head allows him to look over his virtual shoulder. He can tuck his chin. He can bob and weave. Sensors not only track the headset's position, but the real-time movement of two handheld controllers.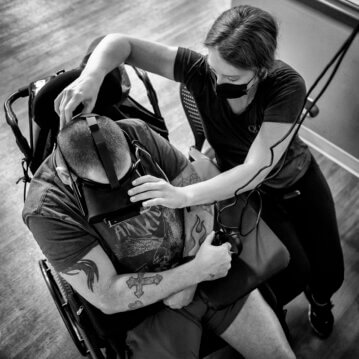 "There's a lot going on here," Adams explains. "This is an active way to challenge the range of motion, his flexibility — plus, it's just a fun way to get some exercise in on a Tuesday."
Since 2017, virtual reality has carved out growing importance at QLI. Products like the Oculus Rift deliver an unprecedented level of realism and control within a virtual space. And its use in clinical rehabilitation has transformed the way therapists engage individuals recovering from injury.
"Technology-driven immersion can amplify a person's rehab gains," says Ed Armstrong, QLI's Coordinator of Adaptive Sports. QLI's adaptive sports program utilizes virtual reality multiple times each day — and the unique feedback the device provides is nothing short of exciting.
"The way virtual reality rewards your effort is a form of positive reinforcement," he says. "If you sync the headset to a bike and pedal that bike really hard, you'll feel like you're flying down the trail. If you're in a boxing match and you throw the hardest punch you can, you're going to throw a pretty hard punch in the game, too. That becomes cyclical and motivating. People want to work harder because, then, they'll see the result of it represented."
Multiple Oculus units are in use throughout QLI — where Rutherford and dozens of others regularly pair the technology with a spectrum of intensive physical activities. While cycling on a stationary trainer, for instance, users can experience a real-time cruise down the Venice Beach boardwalk. Others can try their hand at mountain climbing for an exhilarating upper-body workout.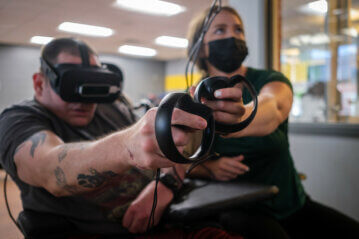 In short, the technology makes the sky the (virtual) limit.
Of course, it's more than simple getaway. Virtual reality provides data to support targeted therapy efforts. Clinical teams compile analytics that include range of motion measurements, resistance training metrics, distance traveled, calories burned — and then use it to help rehabilitation clients hit, or exceed, physical milestones.
"We build virtual reality sessions around cardio goals," Adams says. "If we want to maintain a certain heart rate over time, or if we want to create a high-intensity interval workout, both of those things are possible. It's a more effective functional workout because you're not in a gym but somewhere totally new and exciting."
Adams pulls a chair next to Rutherford. Because his left arm is mostly inert, she holds one of the two controllers, playing the part of his non-dominant hand.
His perspective is rebroadcast onto the television display. Across the boxing ring stands his opponent, a wiry, pompadoured silhouette emblazoned with tattoos. The opponent refuses to touch gloves before the bell. It's a sign of disrespect.
"Oh, you ready to take this guy out?" Adams asks, egging Rutherford on. He pulls in a big breath.
The first round opens with a flurry. Adams splits her attention, half-cueing Rutherford to keep strong posture throughout his neck and upper back, and half-sniping into the air with sharp jabs. Rutherford, on the other hand, swings for the fences. His huge, arcing shots come as much from his hips as they do his right arm and shoulder.
The virtual opponent is elusive. He ducks and sidesteps out of sight. Adams cues Rutherford to turn his head, to adjust his position. The movement is part-stretch and part-functional application. In the momentary pause, Rutherford extends the muscles in his
neck. He scans the ring for the other boxer, finds him and the fight resumes.
Rutherford participates in a half-dozen three-minute rounds at this pace. It's exhausting, even to watch from afar.
But when the match is over and the headset is pulled off, he's all smiles. Win, lose or draw, he has trained in the way he most appreciates, engaged with his passions and with his unique sense of identity in a way that feels familiar, real and rewarding.
This immersion is a breakthrough. And while there is still more innovation to embrace — opportunities for increased voice-controlled accessibility or simpler hand controls for individuals without necessary dexterity — its impact is hard to deny.
"Virtual reality has special importance for the people we serve," Armstrong says.
"This is a tool that turns ability into something you can be proud of. When someone is coming back from being hurt, it feels like progress. It's proof that they're the ones making this recovery possible."
Categories: Adaptive Sports, Adaptive Technology, Brain Injury, QLI Magazine