What happens to an individual after a life-altering injury? For many—even those in ideal circumstances—the stages following an injury consist of intensive acute and post-acute rehabilitation. Whether the phases of their journey take them to rehab hospitals or campuses such as QLI, these widely seen paths are not always exhaustive when considering the full scope of recovery.
For some who experience brain or spinal cord injuries, limb loss, or deal with chronic pain, acute and post-acute rehab are not viable options because their injuries are not severe enough to necessitate in-patient therapy.
Therefore, outpatient or "day" programs are an immensely helpful resource. Such programs help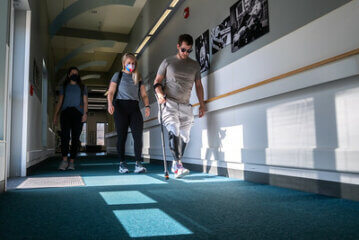 individuals not eligible for in-patient treatment as well as those who discharged from an inpatient facility but are still able to benefit from skilled outpatient work.
At QLI, such a program is now underway—the Motor Learning Program headed by physical therapist Anna Schaffart. The program's goal is to give clients guidance in building their physical strength and motor development, ensuring that gains are always being made.
"The dialogue has been open for over three years to begin a high-intensity physical therapy outpatient program to target motor goals," says Anna. The program, begun in late 2022, works in concert with the idea of delivering life-changing rehabilitation to clients, but it targets refinement of physical progress. The first group of clients were brought into the program on Anna's recommendation, having been former inpatient clients of hers. Having since discharged and being relatively local to Omaha, this group offered an opportunity to build a community. The program has since expanded to include individuals from the metro area who were not previous in-patient clients.
Clients of rehabilitation programs thrive in environments where they not only have dedicated clinicians working with them to devise programs and provide many forms of support but also have a community of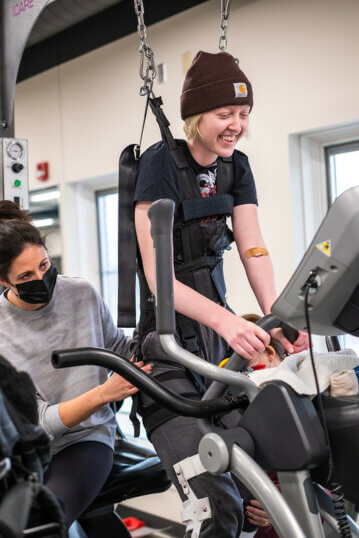 fellow clients with whom they share similar experiences—be it the nature of their injuries or their collective experience as former clients of QLI.
"There's this camaraderie in the program that's already forming," says Anna. "They push and root for each other, even fostering a competitive attitude with one another, be it through cycling sessions in adaptive sports or in a weights group. The community that forms naturally helps strengthen them to mentor current inpatient clients."
An example of the motor exercises in the program can be seen in one of Cassidy Slusher's sessions. Cassidy, a former inpatient client, worked with Anna through the program in spring 2023. Interval exercise sessions often began with Cassidy walking on the treadmill for three minutes at a consistent speed of around 1 mile per hour. After the three minutes were up, Cassidy took a short standing/sitting break. Following a few cycles of this routine, they began to switch between one minute of lower intensity and one of higher intensity exercise, with these ranges being from 0.9 mph to 1.6 mph. Later, she transitioned to two minutes at a time of the lower and higher ranges. Anna notes that by applying six to eight minutes of exertion nerves may start to take over the automatic gait function.
A 2020 article from the Journal of Neurologic Physical Therapy says "Strong evidence indicates that clinicians should offer walking training at moderate to high intensities or virtual reality-based training to ambulatory individuals greater than 6 months following acute-onset CNS [central nervous system injury] to improve walking speed or distance" (Hornby et al).
With a strong foundation built for the program in less than a year, the level of camaraderie among clients and that of clinical expertise and experience are sure to grow exponentially. For more information on QLI's rehabilitation programs, click here.
Categories: Adaptive Sports, Brain Injury, Gait Training, Motor Learning Program, Physical Therapy, Spinal Cord Injury, Stroke