A brain injury brings a sudden shift in the matter-of-fact routines of an individual's day-to-day life. What was once routine and intuitive may have to be relearned. For decades, the rehabilitation process was centered on the care and improvement of a client's medical status and physical function. Following a diagnosis and arrival at a facility, physical and occupational therapy programs were the bedrock of recovery for the body, while speech-language pathology sessions served to address obstacles within the client's cognitive and speech/language functioning. These programs, coupled with ever-increasing advancements in technology, work to build greater neuroplasticity.
However, a more complex facet of a brain injury was often overlooked in the progression of a client's recovery: the mental, emotional, and social toll the injury has on the client's life. Navigating complex social situations can become an anxiety-inducing event and managing social norms and nuances that we all navigate can become overstimulating and confusing.
Enter LoveYourBrain®.
…………………
In 2009, snowboarder Kevin Pearce was at the top of his game. A favorite for the 2010 Winter Olympics, he seemed untouchable. The halfpipe was like a home to him, a place of sanctuary where his spirits were raised and competitive mind kindled. During a trick called the cab double cork, he misjudged the landing on the halfpipe's upper slope, crashing headfirst onto the high edge, and suffering a massive traumatic brain injury.
Though he regained function and returned to independent living, Pearce lacked the mindfulness that his sport had given him. As he fought to get back on the board, he met fellow snowboarders who, like him, wanted to return to the sport following a traumatic brain injury (his recovery journey is the subject of the 2013 documentary The Crash Reel). Some seriously injured themselves a second or third time, and the mindfulness and awareness of the day-to-day became distant. From these observations, Pearce and his brother Adam founded LoveYourBrain® in 2014.
"How can we help people build community and cultivate resilience?" This question reaches farther than baseline traumatic brain injury recovery and was crucial to the early development of LoveYourBrain® (as noted on their website). With a research-supported technical approach to yoga and meditation, the organization adopted a methodology primed to address the anxiety, social difficulties, and emotional needs of those recovering from a traumatic brain injury and their caregivers. In turn, a strong community emerged, primed in its own respect to rise above the internal hindrances that they or those they cared for struggled with, reaching LoveYourBrain®'s determination to ensure life after a life-altering event.
The program includes a series of six sessions over three weeks. Preparing the nervous system for exertion, sessions begin with ten minutes of breathing exercises. Periods of gentle yoga and guided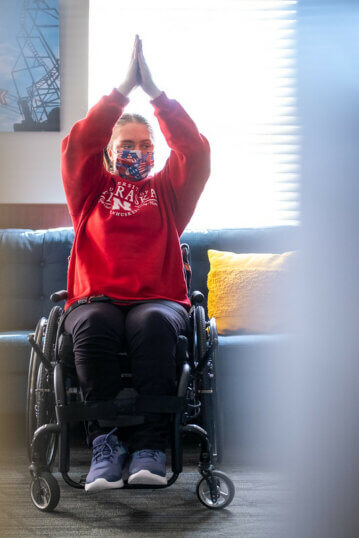 meditation follow (around 45 minutes and 15 minutes, respectively). Each session ends with a psychoeducational component in the form of a themed discussion. Psychoeducation is a therapeutic process that strives to instill an improved sense of self and mindfulness, including the ability to identify and discuss both the positive and negative forces a person is facing in life.
Psychoeducation in the context of LoveYourBrain® is about finding a unity between recoveries of a person's outer and inner being. These discussion portions of LoveYourBrain®'s sessions change each week. The first week's topic is on identifying a "superhero." Who inspired them and led them to be a part of LoveYourBrain®? The second through sixth week's topics center on trying new things (such as a mindfulness-while-eating exercise), thinking about what a "challenge" is or represents to the individual, or getting to know someone else in the group. Because the body operates as a homogenous unit, an imbalance between the outer and inner healing can be detrimental and hollowing to the recovery process.
Naturally, questions may arise about empirical validity of the LoveYourBrain® model. Kyla Donnelly and her team from Dartmouth College pursued these questions in a research study they published in 2020. The team interviewed LoveYourBrain® participants and then analyzed the comments people made about their motivations and experiences with the yoga program. Seven factors were central to the benefits stemming from LoveYourBrain® participation:
Ease of Participation
Belonging
Sustaining Community Connection
Physical Health
Self-Regulation
Self-Efficacy
Resilience
All seven factors reflect a renewed ability to feel at home in the community, and internally self-assured. With the first two categories, (Ease of Participation and Belonging) participants commented about the inclusive environment established during the LoveYourBrain® sessions. Regardless of a person's status as a survivor or caregiver, the psychoeducational component of sessions made everyone feel welcomed and included as a valued member. As the research team noted "…[the] results suggest the program was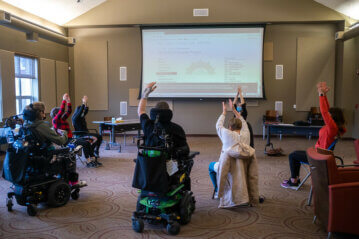 a successful means for promoting relationships with others and participation in meaningful activities, both core aspects of community integration…" (Donnelly et. al., 2020). Questions posed during the yoga class discussions gave each person their chance to be heard. In turn, this promoted the ability to be more comfortable, self-effacing, and resilient to challenges on the road to recovery or caregiving.
Focusing beyond traditional therapy models, QLI is always seeking ways to develop a client's "life path" or finding purpose and passion in life injury. LoveYourBrain® is a natural extension of that model and is indicative of the passion our staff holds for caring beyond the time spent in our program.
"We learned about LoveYourBrain® through Crash Reel and the story of Kevin Pearce," says QLI's Coordinator of Therapy Services Megan Potter. "We were really interested to explore and learn more about the clinical application of yoga. I got in touch with Kyla Pearce and found out that they were offering their first clinical training. Through this training, we realized that LoveYourBrain® could be a critical inclusion for QLI's therapy program."
"As a clinical affiliate," says Potter, "we are allowed to access all of their materials at QLI in our therapy sessions." The sessions allow for modifications including seated yoga and meditation. QLI is determined to see a client's life path through and to help them overcome any obstacles that may arise. QLI clients report attending sessions not only for the natural feeling of community that arises, but also to remember their own purpose in life. "Our goal is to make it public when we have more community-based services," says Potter. This includes offering the LoveYourBrain® program to survivors and their caregivers in the Omaha metro area.
QLI is one of many chapters throughout the United States participating in LoveYourBrain®, and is part of a positive post-rehabilitation network that is united behind a common purpose, one that extends not only to other centers of excellence nationally, but to yoga studios in major cities. Post-COVID, QLI is the one of only a few LoveYourBrain® Nebraska affiliates. Dozens of QLI clients benefitted from the programming and the restored sense of community that it provides.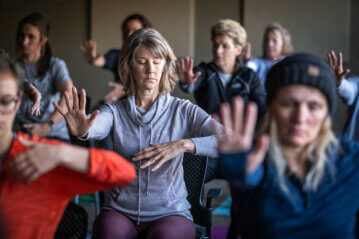 Better equipped and primed to address the spiritual needs of clients, the presence of LoveYourBrain® at QLI provides an outlet for clients' personal betterment. The physical and mental pieces of recovery are complimentary to one's recovery in a post-acute rehabilitation setting, and with the inclusion of a program dedicated to bridging the spiritual gap in this setting, an individual's post-recovery life can be reinforced. This community of support may act as a sort of spiritual neuroplasticity, in that it reinstates clients' confidence as well as the mental and emotional security they need to navigate the social norms and nuances of their world as they did prior to their injury. In this light, the individual is the one in control of the trajectory their life will take after their recovery.
Categories: Brain Health, Brain Injury, LoveYourBrain, Stroke