Berenice Cortes Lopez always knew she would help people and make an impact in their lives.
"That's always driven me," she says. "Even growing up, I knew I wanted to be there for people."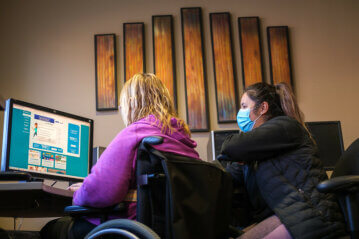 In 2019, having just graduated from high school, Berenice didn't know how she'd impact others. She considered dental school, nursing school, even a career in education.
Ultimately, Berenice sought help to hone a vision for the future. That vision began with Avenue Scholars, an Omaha-area outreach initiative dedicated to connecting students from low-income backgrounds to financially stable, professionally rewarding career paths. Berenice's career coach pitched a new idea, one that matched her giving personality with the opportunity to grow new skills:
Becoming a state-recognized Certified Nursing Assistant (CNA).
Berenice wasn't sold. She imagined run-of-the-mill nursing homes and had heard stories of stressful workplaces and intense, physical responsibilities. Missions and causes motivated her — the notion that hands-on effort could create real change. This didn't line up with what she knew of being a CNA.
"I didn't understand how important a CNA could be," she says. "How was I really going to be making a difference in someone's life?"
Despite her reservations, she accepted the opportunity to take part in a new, specialized training system — IMPACT, QLI's workforce development program, which offered Certified Nursing Assistant training.
Launched just months earlier, IMPACT strove to create the ultimate learning experience for those newly introduced to the world of healthcare.
Traditional CNA training teaches concepts necessary for providing direct care within hospital or geriatric residential environments. IMPACT provided a more involved approach, combining skills training with extended immersion inside an actual clinical setting. Students manage critical tasks for a range of diagnoses — including traumatic brain injuries, spinal cord injuries and strokes. While IMPACT trainees cement their skills using real-world repetition, they also enjoy the benefit of supportive, in-the-moment feedback from QLI's nurses and clinical leaders.
Far more than bookwork, the program builds more than expertise — it builds expertise and confidence.
Berenice recalls moments when instructors stayed after hours to help her practice skills, when QLI team members patiently walked her through complicated and delicate responsibilities, when personal mentors showed her how to lead by example.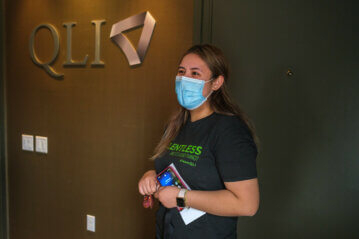 "I remember being asked how I managed conflict," she says. "And I was terrified! But here, you really get to understand intellectual conflict, the kind where everyone knows it isn't personal. It takes real trust to make that work. But being able to handle that as a team makes us all stronger."
It's the piece many career-training programs ignore. How do you maintain professionalism in a fast-paced environment? How do you seek help in the flow of daily tasks? How do you appropriately manage disagreement or support a teammate on their own path toward success?
These soft skills were central to Berenice's development.
In September 2019, Berenice began her study shadowing leaders in QLI's residential teams.
There, she found purpose, becoming a reliable support for those undertaking intensive rehabilitation. Each day, she guided individuals through morning routines, assisted in successful gait-training sessions and built genuine, reassuring relationships with client families — who often watched from a distance as their loved ones embarked on the path back to independence.
Her life's mission was to help others. Through immersion in IMPACT, that mission became the bedrock of day-to-day life.
"I'll never forget realizing how meaningful my job really is," she says. "We're here to see a person's true potential — and to help them recognize the potential they might not be able to see themselves."
Berenice graduated from IMPACT in December 2019. QLI quickly offered her the position of Rehabilitation Trainer.
Her success story is one of many. In three years since the program's inception, IMPACT has turned nearly 70 Omaha-area youth into Certified Nursing Assistants recognized by the State of Nebraska. Each student graduates a professional, ready to make an impact in healthcare facilities throughout Nebraska and beyond.
Many graduates have done exactly that — launching successful careers across Omaha. Some have chosen to stay at QLI. Many students-turned-QLI-employees, like Berenice, have left an indelible mark on the company and the families it serves.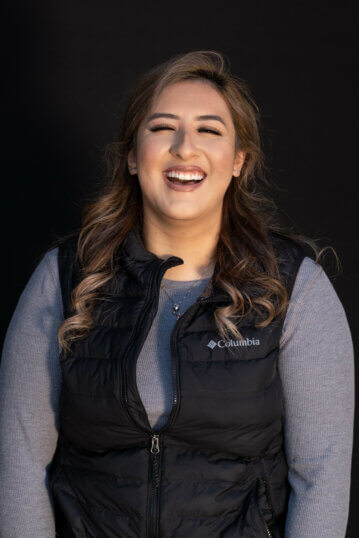 In 2021, Berenice herself received recognition as a QLI Mentor, a special title for Rehabilitation Trainers who provide context-based coaching to new team members and peers alike. It is her responsibility to carry QLI's unique culture forward for a new generation.
She's quick to credit her own mentors — and her time in IMPACT.
"Comparing the point you're at when you start with the way you grow and add abilities, that's what inspires me," she says.
"Learning is about having the right coach just as you're stepping outside your comfort zone. It's about practice, practice, practice and having relationships around you that make you stronger. That's what I feel like I have here. That's what makes people blossom."
Categories: Best Place to Work, Coaching, Corporate Culture, Employee Retention, Leadership, Learning, QLI Magazine, Skill Acquisition