A gap exists between businesses and jobseekers.
Companies seek bright, new talent. Prospective employees compete for bold and fulfilling opportunities. But often, desires don't match up. Job postings demand a diverse list of hard and soft skills, and incoming applicants lack the technical expertise to merit consideration.
Both parties, as a result, exit the process empty-handed. Organizations miss out, often passing up promising candidates with the hopes of unearthing a perfect match. Meanwhile, rejected jobseekers and those looking for professional development continue a seemingly futile cycle of knocking on opportunity's door.
It has long seemed like a closeable gap. Educators and work placement agencies across the country have instituted solutions to equip incoming workers with skills to make them successful in the job market.
Smart businesses don't sit idle waiting for community programs to find the end-all solution to labor problems. With key, work-based learning strategies, every employer — every team member — has the potential to educate, empower and grow their next generation of leaders.
Meet QLI'S Kendra Sims.
Within QLI, Kendra is known as a leader, a transformative mentor and a quiet example of QLI's pervasive commitment to excellence. She's a 12-year veteran whose reputation for leading by example is matched only by a track record of demonstrated growth.
It wasn't always clear her career would turn out this way. When she started on QLI's front lines as a rehabilitation trainer, her introversion — not her ability to coach teammates — stood out.
"She was quiet. Reserved. Not an advocate for herself. She often compared herself to others to her detriment," says Nash Mahupete, QLI's Vice President of Residential Services, who, at the beginning of Kendra's career, served as her immediate supervisor in one of QLI's six on-campus residential rehabilitation homes.
Yet Kendra's subtle, consistent talents eventually made the biggest impression: her drive, insight and empathy for those navigating complex emotional situations — QLI's clients, families and even team members.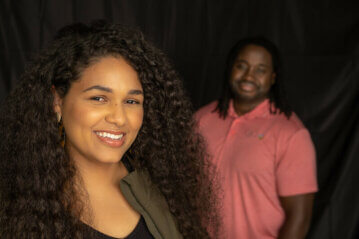 Kendra could spark the best qualities of those around her when it mattered most. With the right practice and guidance, QLI could transform her into a coach capable of maximizing her colleagues' skillsets.
To make Kendra the best leader possible, she needed to know the right techniques to develop her team. Mentors at her side suggested subtle tweaks to her approach and eliminated bad habits before they ever appeared. The approach was an evidence-based education model that focused on contextual learning, similar to the strategies used within QLI's rehabilitation program.
This process revealed the depth of belief QLI leaders had in Kendra — and, indeed, have in all of QLI's team members as they gain new skills.
"One step outside your comfort zone is growth," Nash says. "And as a leader, if you're going to believe in someone, you need to believe in that person all the way, especially as they take the first step."
As a result of Kendra's growth, new and unexpected opportunities arrived. In one instance, Kendra took the helm when her team coordinator left for maternity leave. With another, she was selected to develop a team that required the guidance of an impassioned leader.
In every case, flanked by trusted coaches, Kendra rose to the challenge.
She made it her mission to believe in her teammates' potential. That was familiar territory. She had been in their shoes, knew how the responsibilities felt. But she also knew the importance of being a true and present collaborator just as her leaders were for her.
"No one has all the answers," Kendra says, "but the process of discovery creates excitement for positive change. That's the kind of environment you want to stick around for."
Today, Kendra serves as a QLI Professional — a universal leader who steers discrete teams toward excellence and mentors fellow leaders on their paths to success. She matured into adulthood under the auspices of her QLI coaches and represents one of many voices shaping the future of her company.
Kendra's journey suggests a solution for Omaha's workforce woes. A solution that leans on the neuroscience of learning and asks businesses to reimagine the way they cultivate talent.
"Having a company show genuine interest in my future was a game-changer. The trust and belief we have in each other is the most empowering thing about QLI. Here, they want you to develop new skills, to seek new challenges, to push new limits. It's worth it to invest in individuals, because they are the ones who create excellence."
Categories: Best Place to Work, Corporate Culture, Culture, Employee Retention, Leadership, Learning, Neuroplasticity, QLI - Company, Skill Acquisition