Following a traumatic injury, whether permanent or temporary, a loss of the ability to walk can be life-altering and is frequently reported as the number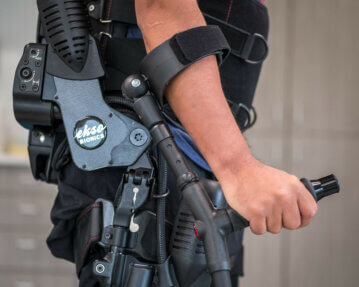 one patient goal for rehabilitation. Fortunately, the past twenty years have brought cutting-edge development in the field of bionics, offering the dual advantage of gait training blended with a myriad of health benefits associated with supported ambulation. Fitting snugly over the body, this bionic is a guiding force that defines what can be done to assist individuals who are unable to ambulate as a result of injury.
The EksoNR is a considerable feat of work from California-based technology leader Ekso Bionics. When the company began in 2005, Ekso Bionics' exoskeleton devices were originally intended to act as support for numerous sectors and primarily began as a load-bearing assist for service members in the US military. That scope now includes both industry workers and individuals who have resulting paralysis due to a variety of reasons, including brain injury, spinal cord injury, or stroke.
EksoNR sessions start with a resident donning the device with the assist of a trained therapist. The main physical requirements of the client utilizing the EksoNR is to weigh less than 220 pounds and be between 5' 0" and 6' 4" in height. With full support and strap attachments for legs, it also has two shoulder straps (fitted like a backpack). Not only is the EksoNR a full weight-support bionic, but it also has in-device technology that allows for adaptive training (regulating speed and assisted leg movement). The tools and software that may be utilized include the following:
EksoPulse: This tool acts as an analytics tracker, noted as being extremely useful to individualize each session with the device.
SmartAssist: Comprising three core parts, SmartAssist involves three settings including a variable level of assistance, offering support in the moment, gait symmetry and posture feedback. Additionally, there is a "Free Gait" setting, allowing the user to initiate movement without device assistance.
EksoView: This feature offers a touchscreen controller for real-time feedback.
As the Ekso's goal is to reintroduce mobility and gait training into a client's life post-injury, the company has the evidence to back it up. In 2021 alone, Ekso Bionics published five studies centered on the efficacy of the exoskeleton itself, as well as the overall effect of gait training and recovery. One of the studies found that out of two non-ambulatory groups, a group focused on Ekso-based rehab progressed to unassisted ambulation at a faster pace than a group that focused on more traditional rehab.
A study done by Emily Read and a University of New Brunswick research team had a more qualitative focus on the Ekso. Centering on a physiotherapist perspective, Read et al's results found that the more engrained in the Ekso environment therapists became, the more comfortable they were with one another, leading to collaborative gains that bolstered their one focus. The therapists also noted that "…patients could take many more steps with the Ekso than without, allowing much more opportunity to work on balance, gait, and core strengthening than would otherwise be possible" (Read et al 2020). The study concludes by admitting that the sample size was small, but emphasized that the findings of positive progression with the Ekso were in line with other studies.
With incoming clients' therapy schedules and routines, care is given to determine how much benefit they might receive from incorporating the Ekso into a weekly routine. Megan Potter, QLI's Coordinator of Physical and Occupational Therapy Services, notes that physical therapists assisting with the Ekso must undergo extensive training to properly monitor and use the device in sessions, and clients use the Ekso once per week in 60-minute sessions (approximately 40 minutes of walking following a mandatory 15-minute questionnaire).  Along these lines are Potter's goals to have clients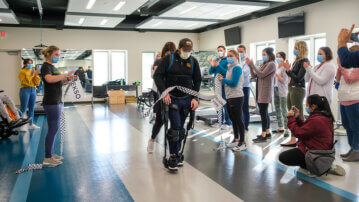 incrementally improve with their use of the EksoNR each week. "The 30 to 40 minute time frame stays about the same, but we hope that we get more steps in that same amount of time" says Potter.
Physical therapist Brad Dexter observes how engrained in the therapeutic routines the Ekso has become over the years. When QLI first acquired the Ekso in 2013, only a couple team members were trained to use it with clients, and the model was approved by the Food and Drug Administration (FDA) to only be used with clients that had complete spinal cord injuries. As team members became familiarized with the technology, more were trained, and the Ekso's uses were approved for those with the paralysis resulting from the aforementioned injuries.
"There's a lot of variety in the use of this exoskeleton," says Dexter. "Whether or not the client can move their legs at all, or if they're doing some of their own walking over ground, there's the ability to cater to those individuals with how our therapists program the Ekso." Currently, seven of QLI's physical therapists are trained to use the Ekso, and from January to September 2021 the device averaged around 2,800 steps per client each month.
"Ideally if you're getting more steps," says Potter, "not only are you getting more efficient with it, but you're learning your weight shift more equally, and the therapist is helping you less." When asked about the Ekso's biggest benefits, Potter notes that "…One…is the emotional benefit of someone who otherwise can't stand and walk because they have a complete spinal cord injury. They say 'I can still do something that feels normal.'"
The relative strong future and positive influence of the Ekso was seen tangibly at QLI not long ago. Tyler Bruck, a former resident at QLI, walked the one millionth step taken in the Ekso unit. Bruck discussed his road to recovery in December 2020, noting that through his work with the Ekso, he was able to graduate to a more bodyweight intensive focused training. In similar measure, former resident Taryn Schaaf was among the first at QLI to use the Ekso. Through her dedication to recovery, and the support of the Ekso, she was able to walk the stage at Baxter Arena and receive her degree from the University of Nebraska Omaha. The Ekso is a cornerstone of these recoveries and many more to come—one that stands alone as a testament of progress.
Categories: Adaptive Technology, Brain Injury, Ekso, Gait Training, Neuroplasticity, Spinal Cord Injury