When legendary CrossFit Games competitor and CrossFit Omaha co-owner Stacie Tovar agreed to help QLI build a high-intensity fitness program for men and women with disabilities, it was because of people like Jeremy Wolzen.
At 46, Jeremy was a regular guy. Though he'd survived a traumatic brain injury sixteen years earlier, he had also completed rehabilitation and now lived in his own apartment. He volunteered a couple times a week at a nearby hospital and at his Lutheran church. Additionally, he worked out regularly.
There was room for something more in Jeremy's life. Something greater. Stacie and Stephanie Roob, QLI's Director of Nutritional Services, embarked on the mission to fill that void.
"The general mission," Stacie says, "was to teach participants functional movement they can carry into their lives. Improve their quality of life – build confidence and independence in demonstrating ordinary life skills."
Jeremy, in this way, embodied a theoretical demographic – someone who, despite the minor and major lasting effects of an injury, was starved for the opportunity to break barriers and achieve inspiring new levels of wellness and physical ability. He wanted to do more than survive. He wanted to thrive.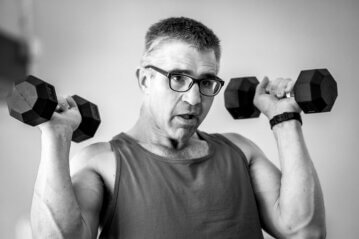 This was the start of GRIT. Engineered to provide maximum-intensity adaptive exercise to individuals throughout the community, the program combined QLI's unique clinical expertise with the peerless functional fitness knowledge and relentless drive of Stacie Tovar and her husband, Dustin.
GRIT has now been active for over three years. Word has spread and participants continue to flock to the program. To date, the program has served a wide range of individuals with physical and cognitive impairments. These include brain and spinal cord injury survivors, amputees, stroke survivors, and individuals living with degenerative conditions such as Parkinson's Disease. Under the inclusive and encouraging leadership of the GRIT team, no trainee is left behind. the program's dynamic exercises are tailored to each participant's abilities.
"We adapt exercises so that what they're learning will crossover to everyday life," Stacie says.
"Together we are all working towards one common goal. We never miss the chance to build someone up and champion them."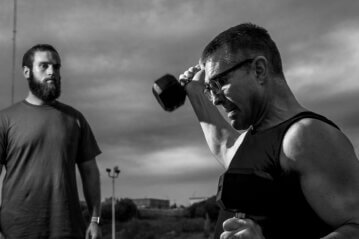 The GRIT program represents a partnership between two organizations making the entire community better. As a result, it has been a springboard for massive personal triumph. Some participants are walking for the first time in years. Many are using muscles they thought permanently lost – the same muscles that make commonplace, functional tasks easier. This is the case even for someone like Jeremy, who continues a rapid ascent beyond limitation nearly two decades after his injury.
"It has changed everything," Jeremy says proudly. "My walking, my posture, my coordination. My day-to-day life is easier and better. I'm better for it."
Categories: Adaptive Sports, Brain Injury, Coaching, Gait Training, GRIT Adaptive Functional Fitness, QLI Magazine, Skill Acquisition, Spinal Cord Injury, Stroke